Aviation Consulting
Whether you're an aviation organisation or your operation relies on aviation support, SGS Aviation Compliance offers comprehensive aviation consulting and assessment services to give you the support you need to ensure the delivery of safe, efficient and reliable services – wherever your operations are in the world.
Our aviation auditing services can be tailored to your specific needs whether you are an aviation organisation or a non aviation organisation.
SGS Aviation Compliance has extensive experience in:
Safety and technical audits of charter operations
Flight Safety Foundation Basic Aviation Risk Standard (BARS) audits
Helideck inspection and certification
Inspection of Airfields and Helicopter Landing Sites (HLS/Helipads)
Aircraft Inspection
Assessing and advising on specialist flying operations (low level, aerial / geophysical surveys, Marine Pilot Transfer etc)
Customised Training and Workshops
Airline Risk Assessment
Accident and Incident Investigation
Aviation standards and policies
Aviation procurement and tenders
Onsite aviation oversight and management
UAV Operations and risk assessments
As a leading provider of aviation auditing services around the globe, we can help provide confidence in the safe and efficient delivery of your aviation operations.
SGS Aviation Compliance's clientele is varied and includes companies in many different industries and sectors such as:
Resource and Mining
Oil, Gas and Energy
Utilities
Government
Forestry and Agriculture
Engineering
Aircraft owners and operators
Many of our clients operate internationally, which gives us a broad knowledge and understanding of the particular requirements of various industry sectors on a worldwide scale.
OUR SERVICES Aviation assessment, audit and consulting services from SGS – Independent audit, review and advice on your aviation operations, processes and management.
Our global team of expert advisors have long provided professional aviation advisory, audit and assessment services to companies from all over the world, and offer a comprehensive suite of services to help companies manage their aviation operators and minimise their exposure to aviation risk.
AUDITS AND INSPECTIONS
Third party and customised operational audits of aviation contractors and facilities
Internal Audits
BARS Audits
Helideck inspection and certification
Inspection of airfields and helicopter landing sites
Inspection of aircraft
SPECIALIST AVIATION ADVICE
Project planning and managing exploration and production ventures and emergency evacuation
Reviewing Airline safety
Advising on specialist role flying (low level, survey, external loads)
Aviation studies and assessments
Advising on operational and maintenance practices
Investigating incidents and accidents
Onsite Aviation Management
CONTRACTS AND PROCUREMENT
Developing contractor tender documentation
Assessing/evaluating tenders
Conducting pre-qualifying audits
Reviewing contractor service level agreements
POLICIES AND STANDARDS
Assessment of companies exposure to aviation risk
Aviation management and gap analysis
Develop/review and update of aviation standards and policies
TRAINING
Customised training courses
In-house aviation awareness workshops
BARS AUDITS
The BAR Standard is a Flight Safety Foundation initiative to standardize the practice of auditing amongst its member organisations.

SGS Aviation Compliance is an accredited BARS auditing company, and with trained auditors located around the world, we are well placed to service any BARS requirements your organisation needs. We can help you:
Perform a Gap Analysis to confirm the work already done towards compliance, and identify what further actions will be required for certification
Reduce operational downtime by coordinating 2nd party audits to be done alongside BARS certification
Provide independent, expert auditors who work with you from the beginning of the audit process to the closeout of findings
Share travel costs with organisations that have a requirement to do operational risk reviews on your company
SGS Aviation Compliance conducts over 600 audits a year in more than 60 countries around the world; our advisors are knowledgeable, and committed to making the BARS audit process a system that works for the aircraft operator. SGS Aviation Compliance has advisors based around the world, providing both local expertise and lowering the cost of mobilisation. We can help you achieve certification expediently and add value to your offering to the resources industry.
RPAS ONLINE RISK MATRIX TOOL
The SGS RPAS Risk Matrix provides a comprehensive tool for risk assessment and also functions as a risk prompt sheet to assist in identifying hidden risks.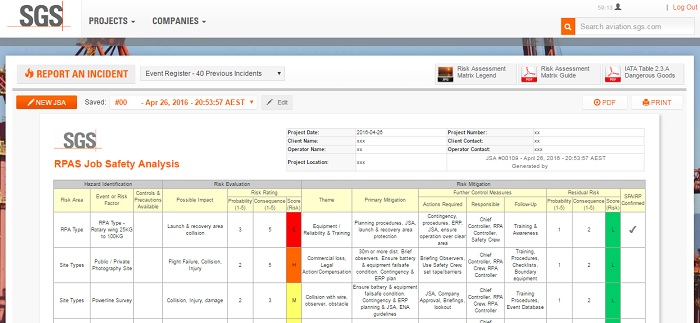 The risk assessment process is aligned to the ICAO SMM, OHSAS 18000, ISO 31000 and other regulations and standards. This process includes an interactive risk matrix that can produce Job Safety Assessments (JSAs) in minutes, and incorporates an online repository to store previous JSAs, as well as making them available to clients (if requested).
Benefits include:
Functions as a risk prompt sheet to assist in identifying hidden risks
Online repository of JSAs and event records
Print or export JSAs and events as PDF files
Ability to generate statistical data and reports, making it possible to identify and target weak areas with remedial actions
Provides confirmation of the effectiveness of existing risk mitigation strategies and can improve safety defences
Demonstrates that due care and diligence to safety outcome was undertaken
Accessible on internet connected mobile web browsers
Contact SGS today to request your free 3 month trial
This will open your email client so you can request an account. We will respond with login information within 1 business day.
AIRLINE RISK CALCULATOR
The Airline Risk Calculator (ARC) is a risk monitoring tool that assists companies and their personnel by providing detailed information and relative risk ratings for scheduled airlines from all over the world, accessible via an interactive website. Unlike most security tools, ARC is safety focused allowing you to:
Make informed choices for your global travel program
Reduce cost by selecting the most competitive carriers, without sacrificing safety
Provide confidence for your travellers with airline reports that give them detailed insight into the carrier they are evaluating
Subscriptions to the Airline Risk Calculator include alerts on industry issues that affect airline travel, monthly updates of all airline scoring changes and the reasons behind them, and advice regarding airline selection. See more at ARC.SGS.COM